| Intro | Why this page? | What is Trinitarian theology? |
Trinitarian theologians: Anderson | Barth | Begbie | D Campbell | JM Campbell | Colyer | Dawson | Gary and Cathy Deddo | Feazell | Fee | Fergusson | Habets| Hart | Hunsinger | Kettler | Kruger | McGrath |McKenna | McSwain | McVey | Metzger | Molnar | Morrison | Newell | Nordling | Parry | Purves | Rogers | Root | Sanders | Thimell | Tkach | Alan Torrance | David Torrance | James B. Torrance |Thomas F. Torrance | Walker | Wauchope | Wright | Young |

———————
You're Included – introduction
The You're Included videos, a "unique interview series devoted to practical implications of Trinitarian theology," comprises 110 conversations published by Grace Communion International
(GCI) at regular intervals from the first interview in May, 2007, with Baxter Kruger, to an interview in January, 2012, with David Torrance.
In addition to the considerable appeal of any particular video, the You're Included series as a whole displays two particularly noteworthy characteristics:
Each video is a conversation, not a lecture.
Propositions are not rehearsed on PowerPoint slides ready to be memorized as part of a logical theological system. Rather, these are fireside chats with notable theologians and writers which offer us a glimpse of their personalities and why they do what they do. Most authors are professional theologians based in universities. Some are popular writers, teachers, pastors or youth ministers. If you're seeking a way to explore theology through personal dialogue and in an open-ended manner, this conversational style will be attractive in and of itself.
The series reflects the ecumenical character of Trinitarian theology.
The guests come from practically every major branch of Christianity, including Catholic, Lutheran, Presbyterian/Reformed, Methodist, Eastern Orthodox and charismatic traditions. Needless to say, they do not agree in many details, but they nevertheless constitute a broad and consensual vision within the Nicene tradition of Christ-centered, Trinitarian theology.
Watching the You're Included episodes with any given author is a great way to get a sense of any book under discussion. You're Included episodes are available from iTunes in video
and audio
formats, on youTube (YoureIncluded
and gracecommunion
). and from the You're Included
section of the GCI website. Links on this page are to the latter, which generally offers a transcript and discussion questions.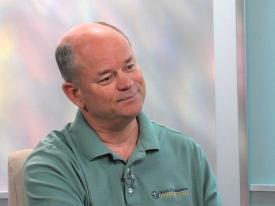 J. Michael Feazell, host of You're Included (2007-2012)
Thank you, Michael and GCI, for this wonderful series! (More…)
Why this page?
I'm not a pastor or theologian, nor affiliated with GCI; just a lay person trying to think more deeply about my faith (update: in 2017, we joined Crosswalk Community Church, a GCI fellowship in Oklahoma City). In "Marriage is the gospel made visible," I expressed the good news of Christian faith from a Christ-centered and therefore Trinitarian perspective, unlike, say, The Four Spiritual Laws, which makes us and our sin the starting point. In doing so, I'm grateful for the You're Included video series. In a previous post, "Resources for reflecting on The Shack," I wrote:
"The simplest way to become acquainted with the tradition of Trinitarian theology reflected in The Shack might be to watch the entire series of You're Included podcasts, and to explore the authors and publications mentioned in these conversations. These videos offer an excellent resource for pursuing a personal study of Trinitarian theology or for holding a regular discussion group."
GCI maintains a list of You're Included videos. To pursue my own personal study of Trinitarian theology, I compiled the list below which juxtaposes the YI episodes with links to each participant's published books, institutional affiliations and websites, and to additional videos available outside the YI series. I stumbled upon the You're Included series as I was beginning to read through the works of Thomas Torrance, Karl Barth and George MacDonald, and the video conversations proved to be just the guidance I needed at just the right time in this ongoing and ever more exciting journey. (Thanks, Michael and GCI!)
What is "trinitarian theology"?
Trinitarian theology does not refer to an intellectual puzzle or a speculative argument in metaphysics. Nor does it denote a mental assent to the Trinity as an abstract doctrine or secondary belief. Rather, Trinitarian theology refers to a personal approach to theology that arises out of the revelation of God in Christ. Through the Incarnation God reveals himself as an eternal communion of love between the Father, Son and Spirit. Trinitarian thinking is Christ-centered, with the Incarnation as the starting point. Every area of doctrine organically connects to, and is grounded upon, the Trinitarian communion of God revealed in the Incarnation of Jesus Christ. Our understanding of the Trinity therefore serves not as an isolated doctrine but as a grammar of theology, a way of thinking that searches out the natural connections between every doctrine and the revelation of God in Christ. Here are some helpful preliminary links provided by Grace Communion International which offer a basic introduction to Trinitarian theology:
Trinitarian Theologians
(As featured in GCI media, alphabetized by last name; click photos to search GCI website for that person.)
Ray Anderson

Anderson 1: Starting Theology with Jesus: The importance of having our theological viewpoint based on God's revelation of himself in Jesus Christ.
Anderson 2: God and the Prodigal Son: Relating our lives to God's reality, what God has become in becoming human, adoption, the parable of the prodigal, our necessary connection with Christ, and the emergent church.
Kettler 3: The Ministry of Ray Anderson.

Karl Barth *

You're Included videos provide conversational yet insightful perspectives on the theology of Karl Barth from a variety of theologians. It's difficult to choose, but of the many listed on this page I would single out the following ones by Gary Deddo, George Hunsinger and Jeff McSwain as particularly helpful introductions to Barth:
My posts on Barth:
Jeremy Begbie

Info:
Books (selection):
You're Included:

Begbie 1: Music and Theology.
Begbie 2: Journey in Music and Theology: Dr. Jeremy Begbie discusses the beginnings of his passion for music and theology and explores various historical approaches to music.

Other videos:

Theology through the Arts
Where do we go from here? Session 6 from the conference "Beyond Old and New Perspectives on Paul."

Douglas Campbell

John McLeod Campbell and the 19th-century Scottish background for 20th-century Trinitarian theology *

Along with Edward Irving (1792-1834), Thomas Erskine of Linlathen (1788-1870) and a number of other 19th-century Scottish theologians, Campbell (1800-1872) critiqued the Calvinism of the day by arguing that God in Christ assumed our fallen human nature, yet without sin through the Holy Spirit; that the Father loves all humanity and that Christ died for all humanity, not just for those who believe; and that we are somehow joined with Christ in his recreation of our human nature. In this way, they helped inspire the more lively evangelical tradition exemplified by figures as diverse as George MacDonald (1824-1905), F.D. Maurice (1839-1901) and, in the 20th century, Karl Barth and the Torrance brothers. As with Barth, each of these writers has been caricatured and misrepresented. Yet a recovery of these writers will deepen one's historical understanding of the evangelical character of modern Trinitarian theology, which took root in 19th-century attempts to think through the doctrines of Incarnation and Atonement together in their natural interconnections.
You're Included videos:

Daniel Thimell 1: John McLeod Campbell and Grace: In this conversation, Thimell discusses John McLeod Campbell at length, explaining how Campbell traced his parishioners' lack of joy in their Christianity back to a deficient, superficial, merely legal understanding of the Atonement, disconnected from the love of God come in the flesh in the person of Christ (i.e., disconnecting the Atonement from the Incarnation).
Throughout the You're Included video series, participants frequently mention Campbell. Two examples of brief mentions include: Ray Anderson 2: God and the Prodigal Son (relating our lives to God's reality, what God has become in becoming human, adoption, the parable of the prodigal, our connection with Christ); and Andrew Purves 2: Theology for Pastoral Work.

Scottish background, some introductions:

Thomas F. Torrance, Scottish Theology: From John Knox to John Mcleod Campbell (T&T Clark, 2000). The last chapter is devoted to Campbell; the penultimate chapter discusses Thomas Erskine.
The Devotional Library, ed. James B. Torrance and Michael Jinkins (Edinburgh). The six slim volumes in this series, published by Saint Andrew Press, begin with an accessible essay about the subject's life, writings and historical significance, followed by thoughtful selections from the author's works:

Scottish background, a few recent studies and links in addition to those given above:

Elmer Colyer

Other:

Gerrit Scott Dawson

Gary and Cathy Deddo

J. Michael Feazell

Mike Feazell hosted the You're Included video series until his retirement in December, 2011, when he served as Vice-President of Grace Communion International, and formerly Executive Editor of Christian Odyssey magazine. He earned his Doctor of Ministry degree from Azusa Pacific University, and has written many articles on the GCI website. (See the GCI Update on Mike's retirement). Mike, thank you! I wish you all the best, although I hope to see additional episodes with you from time to time. 🙂
Books:
GCI videos:

A Word from our Sponsor: many videos (NOW OFFLINE).
Feazell appeared in Foundations of Theology (transcript; video now offline).
Seated with Christ – 54 min lecture from the 2010 Orlando GCI conference.

Gordon Fee

Fee 1: The Book of Revelation: Basic principles of understanding Scripture.
Fee 2: How should we read the Bible?
Fee 3: Like Father, Like Son: Dr. Fee talks about the renewed image of the Father through his likeness shared in Christ the Son.

David Fergusson

Professor of Divinity and Principal of New College, University of Edinburgh; Fellow of the Royal Society of Edinburgh; Fellow of the British Academy. Formerly Chair of Systematic Theology, University of Aberdeen, 1990-2000. He has delivered the Bampton Lectures in Oxford (2001), the Gifford Lectures in Glasgow (2008), the Warfield Lectures in Princeton (2009), and the Birks Lectures in Montreal (2013).
Books:
You're Included:

Fergusson 1: Faith and its Critics.

Myk Habets

Dean of Faculty, Head of Carey Graduate School, Lecturer in Systematic Theology, Director of Research, Carey Baptist College, Penrose, Auckland, New Zealand.
Select books:

Theosis in the Theology of Thomas Torrance, 2009.
The Anointed Son: A Trinitarian Spirit Christology, 2010.
Theology in Transposition: A Constructive Appraisal of T.F. Torrance, 2013.
Editor, Trinitarian Theology After Barth, 2011.
Editor, Evangelical Calvinism: Volume 1, 2012.
Editor, Ecumenical Perspectives on the Filioque for the Twenty-first Century, 2014.
Editor, Evangelical Calvinism: Volume 2, 2017.
Editor, Theology and the Experience of Disability, 2016.
"The Essence of Evangelical Theology. Critical Introduction," in Thomas F. Torrance, The Trinitarian Faith: The Evangelical Theology of the Ancient Catholic Church (London: Bloomsbury T&T Clark, 2016), vii-xxxii.
The Thomas F. Torrance Theological Fellowship Annual Lecture, AAR Annual Meeting (San Diego, 21 November, 2014).
Heaven: An Inkling of What's to Come, 2018.

You're Included:
The following interviews were conducted for You're Included, but only transcriptions are available due to the poor technical quality of the recordings.

Trevor Hart

Hart 1: God the Father, Reflected in Jesus Christ. There is positive encouragement and assurance in knowing that God's eternal purpose is to be God in Jesus Christ for us – that God the Father is fully reflected in the face of Jesus.
Hart 2: Art and Imagination in the Church. There is a place for the various arts and for imagination in the church.
Hart 3: Zooming in on Salvation. God's heart beats with love for everyone he's made, so he calls them into fellowship with himself. This is good news, not just for Christians but for everyone.

George Hunsinger

Christian Kettler

Baxter Kruger

Other videos:

Free to Live conference: Understanding who we are in Jesus. A GCI conference held in May, 2011 in Grand Junction, CO. Four sessions (4 hrs total; DVD files available).

Session 1: On the first evening of the conference, Baxter introduces the themes of who we are in Christ in a relaxed, story-telling format with some sharing from his own personal journey. Key verse: "In that day you will know that I am in my Father, and you in me, and I in you" (John 14:20).
Session 2: Our understanding of who God is and what he is like is the foundation for understanding everything else, including who we are. What would it be like to see God through Jesus' eyes, and to know the Father as Jesus knows him? Key passage: Luke 15.
Session 3: How we hear the whisper of evil: "I am not… (wanted, worthy, special, loved…)"; how we respond psychologically by self-salvation, attempting to fill the void of our "I am nots"; how God dwells inside our darkness and how Jesus gets his "I am" inside our "I am nots." Cf. Baxter's "soul diagrams". Key verses: Romans 8.15 ("you have received the Spirit of adoption as sons, by whom we cry, "Abba! Father!"") and Galatians 4.6 ("God has sent the Spirit of his Son into our hearts, crying, "Abba! Father!"").
Session 4: The Father, Son and Spirit knew, loved and claimed us, in our brokenness, before the foundation of the world, and now find their way into our darkness and pain to meet and heal us, bringing us with all our brokenness into their embrace. Key passage: "Blessed be the God and Father of our Lord Jesus Christ, who has blessed us in Christ with every spiritual blessing in the heavenly places, even as he chose us in him before the foundation of the world, that we should be holy and blameless before him. In love he predestined us for adoption as sons through Jesus Christ, according to the purpose of his will" (Ephesians 1:3–5; cf. 2 Timothy 1.9).

GCI Conference, Perth, Australia, 2011, "How the Gospel works out in our lives." Website and program. Part 1 (Baxter Kruger); Part 2 (Bruce Wauchope); Part 3 (Kruger); Part 6 (Wauchope).
Additional videos at perichoresis.org

Alister McGrath

Info:
Books (selection):
You're Included:

Apologetics and Theology: Alister McGrath discusses his journey into the study of science and theology, his discovery of C. S. Lewis, and various issues facing the church today.

Other videos (selection):

"A Manifesto for Intellectual Engagement: Reflections on Thomas F. Torrance's Theological Science (1969).": Keynote address for the 2016 Annual Meeting of the Thomas F. Torrance Theological Fellowship, San Antonio, Texas.
Many videos may be accessed via McGrath's Oxford website, including the sites for his theology textbooks (click any cover) and the "Lectures" page.

John McKenna

Jeff McSwain

Steve McVey

Dimensions in Ministry:

McVey 1: 52 Lies Heard in Church Every Sunday, Part 1. OFFLINE
McVey 2: 52 Lies Heard in Church Every Sunday, Part 2. OFFLINE

Paul Louis Metzger

Paul Molnar

Michael Morrison

Michael hosts many of the You're Included videos.
GCI Together: Michael Morrison (autobiographical interview). OFFLINE
Morrison appears in the Foundations of Theology video. OFFLINE
A Word from our Sponsor: many videos. OFFLINE
A Brief Guide to Bible Study.

Roger Newell

Newell 1: Mary's Response to the Angel's Message. Mary's response to Gabriel's announcement that she would give birth to the Son of God; the importance of the Incarnation.
Newell 2: Insights of C. S. Lewis. Theological insights in C.S. Lewis' fiction.
Newell 3: Theology and German History. The relationship between theology and German history in the 20th century.

Robin Parry

Parry 1: A Trinitarian perspective in Worship.
Parry 2: Lament, and the role of Israel in salvation history.
Parry 3: Hope for All Humanity – God's purpose for salvation. Christ's salvation is already achieved for everyone, and we can participate in that. OFFLINE

Andrew Purves

Dan Rogers
* Note: John McLeod Campbell, Karl Barth, Thomas F. Torrance and James B. Torrance do not appear in any of the You're Included episodes, but they are listed above because they are often discussed in these conversations. Indeed, they are discussed so frequently that watching the entire You're Included series is one of the most effective ways to be introduced to their theology and influence.
To all of the above participants: Thank you for sharing in such an accessible way! You and your books are providing me a path through the desert and a shining light in the darkness.
——————
This page will remain a work in progress, revised as new episodes, books, videos and other resources appear.
| Intro | Why this page? | What is Trinitarian theology? |
Trinitarian theologians: Anderson | Barth | Begbie | D Campbell | JM Campbell | Colyer | Dawson | Gary and Cathy Deddo | Feazell | Fee | Fergusson | Habets| Hart | Hunsinger | Kettler | Kruger | McGrath |McKenna | McSwain | McVey | Metzger | Molnar | Morrison | Newell | Nordling | Parry | Purves | Rogers | Root | Sanders | Thimell | Tkach | Alan Torrance | David Torrance | James B. Torrance |Thomas F. Torrance | Walker | Wauchope | Wright | Young |
———————